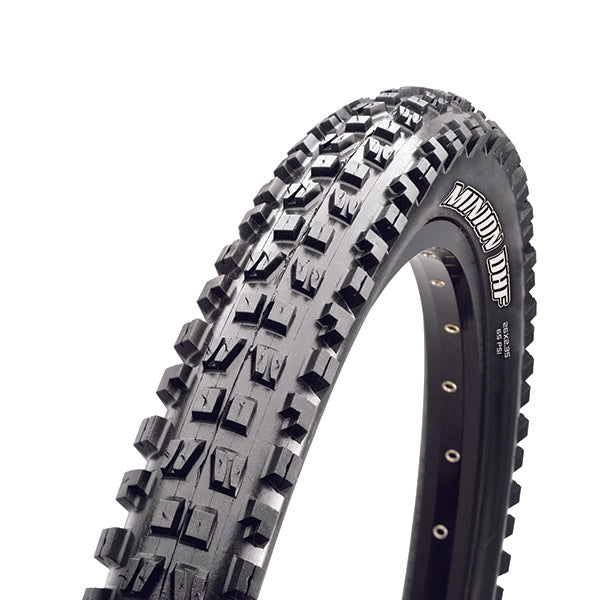 The Minion DHF was designed for the often loose and muddy conditions of aggressive all-mountain terrain. The DHF incorporates ramped knobs for low rolling resistance and channel-cut knobs to increase gripping edges, giving straight-line control and precise cornering.
3C MaxxGrip and MaxxTerra compounds available
DoubleDown technology options
Wide Trail options for 35mm rims
Foldable Bead Options
Cycle > Mountain > Minion DHF
Product No: ETB96800300
EAN: 4717784025933
Weight: 1015g
(+/-7% tolerance)
| Rim Size | Width | TPI | Bead | Ply | Compound | Colour | Technology |
| --- | --- | --- | --- | --- | --- | --- | --- |
Technology
Tyre Construction
Tubeless Ready (TR) tyres provide the rider with many benefits: the ability to run lower air pressures, which improves traction; lower rolling resistance when compared to a tube-type tyre; and less chance of flatting since there is no tube.
Liquid sealants should only be used in the following types of tyres: Tubeless Road, tubular, and tubeless Ready. The use of liquid sealants in any other Maxxis tyre will void the warranty.
Compound
An intermediate compiund configuration used in select mountain tyres. 3C MaxxTerra is softer and offers more traction than 3C MaxxSpeed, yet provides better tread wear and less rolling resistance than 3C MaxxGrip.